Galeco PVC System
Galeco PVC is manufactured using a cutting-edge production process CO-EXTRUSION.
The supporting layer being the core of the profile is connected inextricably with the outer layer, which allows for optimizing of various performance parameters. Mechanical resistance of the inner layer is maximised, whereas the external layer is resistant to UV, gloss and colours fading.
Innovative shape of the gutter
Protects against overflowing water even in case of heavy rainfall.
Specifically designed gutter hook
With huge load resistance.
Increased gloss of gutters
Enables enjoying its perfect look for the years.
Guaranteed highest stability
As upon installation completion, the only movable element is the gutter.
System tensile resistance
Thanks to the application of light interior in long components, the system heat up is decreased even by 15%.
Specifically selected material
Is equipped with "UV PROTECT" safety device that protects a colour against adverse weather conditions.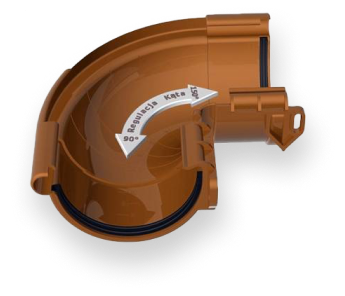 Thanks to the innovative solution, the contractor will no longer have to wait for delivery of a custom-ordered external corner of angle other than 90 °.
An external corner that can be assembled and installed on the roof pitch of 90° to 150° will be available ex-stock.  The corner consists of two halves - one base part and one adjustable one.
Galeco PVC System components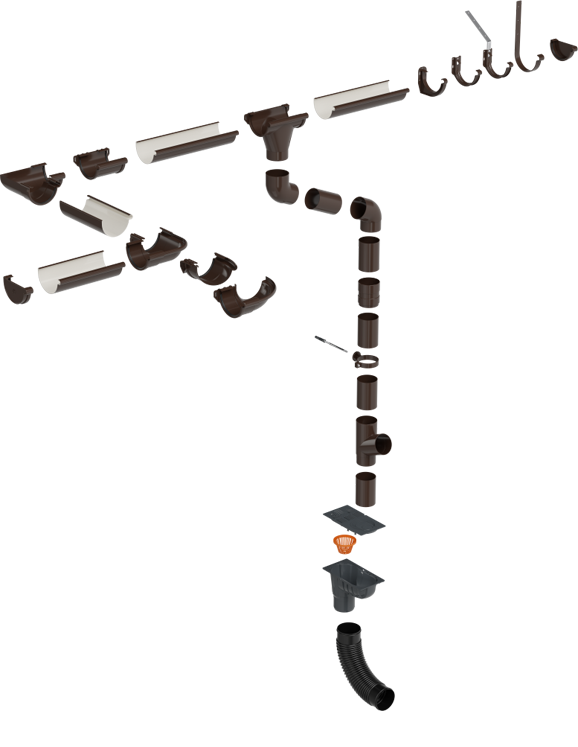 A distinctive feature of the PVC gutter system is the internal tilting of the gutter edge
This solution guarantees drainage of rain water even during intense rainfall without overflowing the edge of the gutter. The remaining elements of the gutter system, rafter bracket, joiners and outlets, have special side handles and are fixed to the butt plank ensuring stabilization of the entire system and minimizing the risk of unsealing, and the only movable element remains the gutter.
Gutter elements:
right endcap
metal rafter bracket
gutter joiner
support bracket with support
gutter 2 rm
no-seal outlet 90/50
PVC-U support bracket
external corner 90°
internal corner 90°
external corner 135°
internal corner 135°
left endcap
Downpipe elements:
elbow 67°
pipe 2 rm
socket
metal pipe bracket for pegged screw
branch
PVC-U pipe bracket
universal gully
PE elastic elbow
Thanks to specially produced production technology and appropriate additives, PVC material achieves high resistance to ultraviolet rays, appropriate color and gloss.